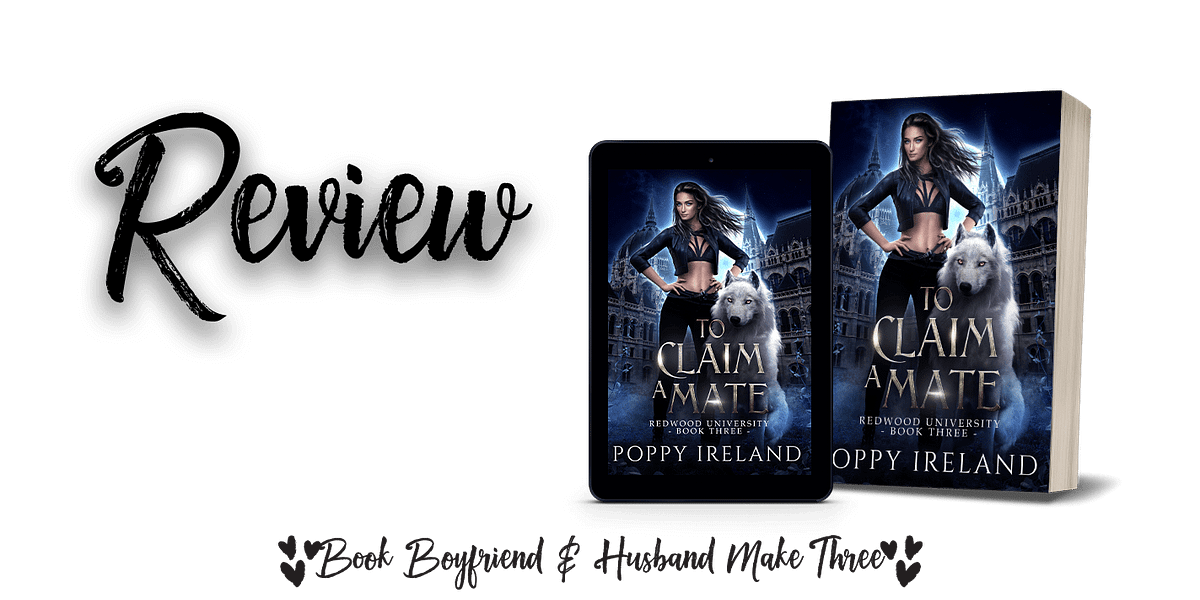 ⭐️⭐️⭐️⭐️⭐️
I don't know where to begin, not just because my mind is still lost inside the Redwood Academy series, but because this was without question the most mind-blowingly epic trilogy I have ever read. This duo embraced the liberties of their imagination by creating a fantasy world that's as spellbindingly captivating as it is unique.
To Claim a Mate picks up where To Save a Mate left off, and when I say it was non-stop, I mean it was what I imagined it would be like to travel on the "Witchy Express." My head is still spinning, my heart is racing, but my soul is quite literally full from being able to escape into such a fantastically mesmerizing story.
From the very beginning, I felt the uniqueness of this world, vampires, shifters, fae—every element of this fantasy world is a huge testament to this duo's talent. Not only did they bring this world and these characters to life, but their words are as magical as Juniper's spells, every word more hypnotizing than the last. The banter and outrageous shenanigans that bring a smile to your face, even in the most dire of situations because this was more than a story about fated mates, although, make no mistake, there is definitely that, but there's also the friendships that have lasted a lifetime and the people who you've just met but immediately make you feel as though you've never not known them.
Alexei and Nicole were powerhouses of strength, but when you add in this ragtag group of unconventional friends, they become an impenetrable wall of strength and determination. I adored the dynamics, and honestly, the dialogue in this trilogy is without question some of the best I've ever read. Why? It's a fantasy world where werewolves, witches, fae, and vampires are the norm, but from the very first word, this world and these characters felt like home. They brought me peace when I went in feeling anything but. The clever quips, the insane antics, the unyielding support—each and every character fed a part of my soul, and as real life has been doing the opposite of that lately, it was desperately needed.
My head is still spinning from this story. The war was inevitable, and the journey to Nicole and Alexei's happily ever after was hard fought. There were so many moving parts in this world that it was like being in a vortex. For hours on end, every thought, every emotion, every part of me was so wholly immersed inside this world that nothing outside of Redwood University existed.
To Claim a Mate is my top read of 2023, as in absolutely, without a shadow of a doubt, my #1 read.

One word was all it took, I was on the "Poppy Express." A mesmerizing blend of soul-consuming chemistry, a growly AF alpha hero, a strong sassy heroine, heart pounding twists, "wtf" turns, clever banter, laugh out loud "omg Corbin" antics, and flaming hot steam. Poppy Ireland is the Queen of Fantasy Romance.

I'm keeping my fingers crossed that this isn't the last we see of these characters. I know, without a doubt, this is a world I will revisit often. This duo has created something more magical than any fictional character could possess. The intricately woven plot inside a world that they created from only their imagination, the fictional characters who feel like friends the moment they appear on the page. It is the most mesmerizing escape from reality I've had a long time. It was a much needed reprieve, more than I could ever express.
About the book
Welcome back to Redwood University, where nothing is as it seems…and I'm stronger than anyone expects.
My nineteenth birthday awakened something within me, revealing truths I could've never imagined. My new powers do not come without risk, though, and the future of shifters everywhere rests upon my shoulders.
As my mate is preparing to challenge his father, the evil alpha proves he has a few tricks up his sleeve that could destroy the entire supernatural community.
It's a fight for our lives, but as Alexei and I have learned, we are stronger together. If Alpha Jones wants to steal our fate, then we'll band together and take him down.
Because no one is going to deny us our happily ever after.
*To Claim a Mate is the third and final book in the Redwood University Trilogy. It is not a standalone. If possessive heroes who occasionally turn into wolves and sassy, headstrong heroines are your jam, you've come to the right place. So sit back, relax, and enjoy the conclusion of this exciting paranormal story.
Download today or read for FREE with Kindle Unlimited