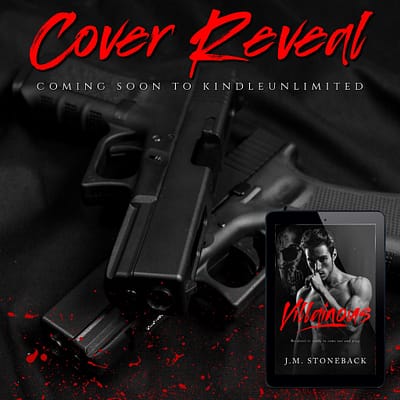 Release Date: November 30
He's my worst nightmare, and I've been running from him for ten years.
Keep my head down and don't draw any attention to myself.
In hopes that he won't find me.
The most notorious mafia underboss, Aiden "Villainous" Vitali, wants answers on why I left him without a word.
If I refuse to tell him why, then he'll kill me.
Talk or die.
This book contains graphic violence, dubious content, and may contain triggers.
Pre-Order Your Copy Here:
Add to your Goodreads TBR List!
Meet J.M. Stoneback
I am an indie author. I write contemporary romance and dark mafia l romance. Love to read and write, enjoy playing video games and watch anime.
My book Heartless Boss is free if you sign up for my newsletter.
Gunner is one of my favorite alphas heroes I ever written.
If your into 🧁Broken Alphahole 🧁Office Romance
🧁A quirky heroine 🧁Angsty
Then this book for you.
Connect with J.M. Stoneback
Newsletter | Website | Facebook | Reader Group | Instagram | Twitter | Amazon Author Page BookBub | Goodreads
Hosted By: