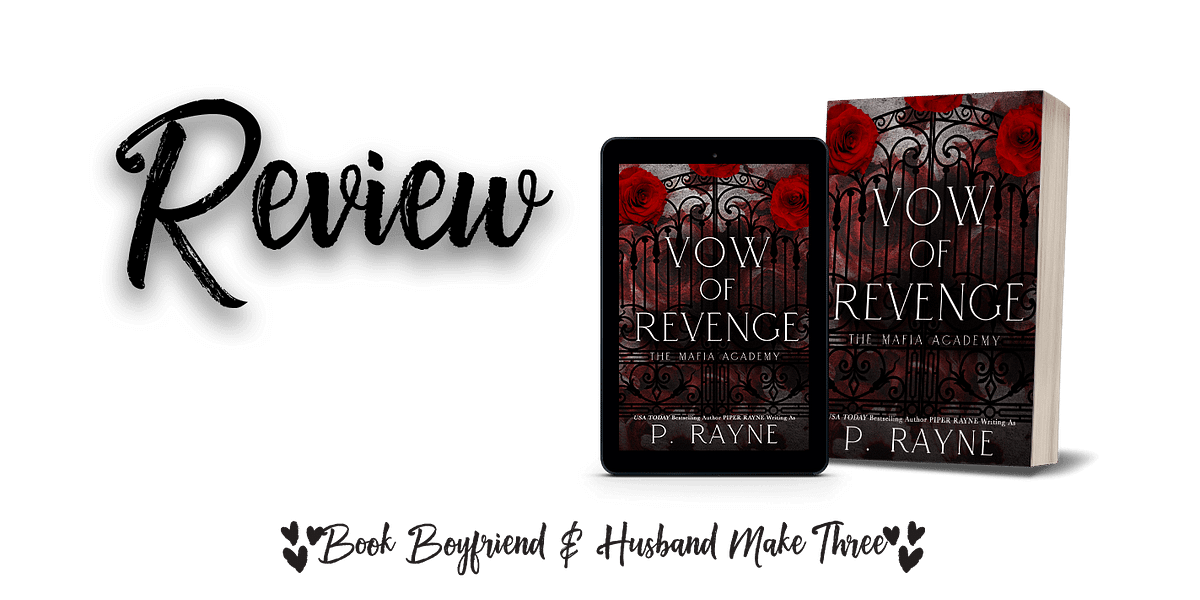 ⭐️⭐️⭐️⭐️⭐️
Mafia is my all-time favorite, so of course when I saw that one of my favorite duos was going to step into the dark side of the romance world, I felt like it was a gift from the goddess of dark romance. Vow of Revenge has completely cemented the fact in my mind that there is no limit to their talent.
I lied to myself when I opened it and said I was only reading a few chapters. That's not even remotely what happened because by the end of chapter one, I might as well have put a closed sign on my forehead; real life was canceled, and by the time I reached the end, I knew I had found a new favorite mafia series and dark romance author. Once you're in the mafia, there's no getting out, so when you start this, go in with the knowledge that there's no turning back. Not that you would want to, because we have more made men to add to our book boyfriend list.
Mira was fiery; there's no other word that would do her justice. She may not have had an exact plan, but she knew with every part of her soul that she would never be the obedient mafia wife that sat quietly and did as their husband said. Mira was fire, sass, and a complete BA. She was the perfect woman to trigger a change in the way women in the world were viewed. It wasn't just that she voiced her opinions or that she sassed the mafia boss, although that added to the burning chemistry they shared. It was that she was intelligent, and above all, she never lost sight of who she was; she knew her worth.
Marcelo dove right into a top slot on my anti-hero book boyfriend list. He was an anti-hero god—you know, the ones who command a room the moment they walk in? He was hellbent on answers, and with every move he made—and even the ones he didn't make—it became clear that he was meant to be the head of the family. He was possessive and ruthless, and obviously, I'm completely and utterly in love, and that's not even including steamy moments. The mouth on this man 🔥🔥.
The chemistry between Mira and Marcelo was there from the start—a little flicker as though there was a stick of dynamite between them—and with every angry word, sassy retort, and defiant action was their brand of foreplay, which led to some of the hottest steam I've read this year. I loved their back and forth and the way they pushed one another, sure, it fed the physical chemistry, but it was also in those moments that they started to truly see one another, and that added a whole different level of intensity.
I had no idea what to expect, and to be honest, I didn't even read the blurb until it opened to that page. All I knew was that one of my favorite rom-com duos was going to dip their fingers in the inky dark side of romance, and I was diving in with all the faith in the world that it would be amazing. To be honest, I'm in utter awe. Not only is this the complete opposite of their normal, and the only similarity is that it's well written, the storyline is CONSUMING, the characters are engaging, and that's where it stops, but even those things are in a VERY different way.
Mafia is my favorite, and there are times I shake my head at the characters people are supposed to believe are heads of a family, but their personalities scream accountant. This duo created a world that is quite a unique spin on not only mafia tropes but also college and academy tropes. This was such a phenomenal introduction to the Mafia Academy series. I'm already looking forward to the next time I'm able to spend time inside this world, but those little hints as to what's to come have got my mind whirling with possibilities.
Vow of Revenge was without question one of the most phenomenal introductions to a new series that I've ever read. This duo has blown my mind in the most enthralling and addictive way that I've only just finished, and I'm ready to beg for more. As in, this isn't even a "cancel real life" level of unputdownable; it's a "cancel being human, and nothing other than what's happening inside this dark and twisty fictional world will matter.
The most exquisite blend of fervent chemistry, a "touch her 🔪 anti-hero, a BA heroine, secrets, threats, heart palpitating twists, and white-hot steam. The back and forth between them was enemies to lovers perfection with an added new favorite Mafia series cherry on top.
About the book
Nothing ruins a perfect day like your dead fiancé showing up in the middle of your first class.
Mirabella La Rosa
When my father arranged for me to marry the next in line to lead the Costa crime family, I swore I'd do anything to escape that fate. I have way more to offer my family than being some man's arm candy, producing heirs, and making appearances at weddings and baptisms.
Marcelo Costa might be my fiancé, but he'll never be my husband.
Somehow, I get lucky because he and his father are killed in a car bombing. Not only do I not have to go from being a mafia princess to a mafia wife, but now I can attend college at the Sicuro Academy–an affluent private college created for mafia children like me.
I'm so excited. I've moved into my dorm room with my best friend, put on the uniform and am ready to learn. But all my plans come to a screeching halt when he shows up on campus alive and well, seeking revenge on those that crossed him.
Marcelo Costa
The look of shock on my fiancée's face when I walk into the classroom at the Sicuro Academy gives me more pleasure than it should.
Mirabella made it clear she didn't want to marry me, and she's a problem to be dealt with for sure. But now, she's the smaller of my two problems.
The only reason I'm at the Sicuro Academy is because my investigation into the bomb that killed my father and almost took me out has led me here.
So I'll allow Mirabella to stay at the academy while I track down my father's murderer, but once I've brought that person to my own particular brand of justice I'll remove her from campus and make her my wife.
And no amount of pleading on her part will change my mind.
Download today or read for FREE with Kindle Unlimited