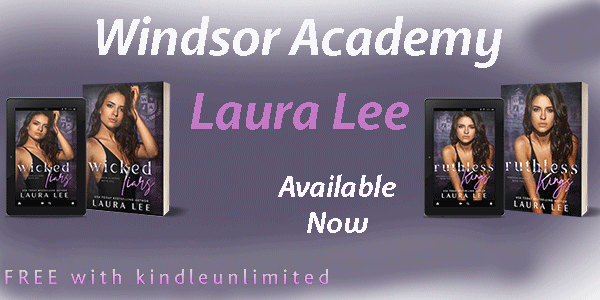 WICKED LIARS
Blurb:
Liars.
Every last one of them.
The kings and queens of my new high school.
The father and stepmother I never knew.
Each has more wealth and privilege than I could've ever imagined.
Each has a pile of wicked dirty secrets they'd do anything to protect.
These people have grown accustomed to getting what they want and what they want is to make my life a living hell.
Too bad for them, you can't break someone who's already broken.
Too bad for them, I won't give up without a fight.
Too bad for them, I'm going to make them pay…even if it's the last thing I do.
*Wicked Liars is book 1 of 3 in the Windsor Academy series. It cannot be read as a standalone and does end in a cliffhanger. This is a dark high school bully romance that may contain triggers for sensitive readers. Due to mature subject matter, it is recommended for readers 17+ only.

This is my first book by this author and I'm so glad that I found her.

I was immediately pulled into this world where the new girl gets treated like trash but really is so much better than the insane hierarchy that's in play at the new school she's attending.

Jasmine has a target on her back from the start and as she captures the attention of Kingston who's the king of their high school. All she wants is to be invisible and make it through senior year she most certainly doesn't want anything to do with Kingston but it seems neither she or Kingston have much of a choice because the fiery connection they share won't allow either of them from giving into it.


I love Jazz's sassy mouth and how in any given situation she is undeniably herself and proud of it. There is so much more than meets the eye with Kingston and although he does seem to have a soft spot for Jazz there's a much bigger piece of the puzzle that is his priority. Secrets, twists & turns, blazing chemistry, lies and betrayal is what really rules at Windsor Academy.
RUTHLESS KINGS
Blurb:
In a world filled with secrets, lies, and cruelty, only the strongest will survive.
I'm living proof of that.
But being left for dead has made me question everything I thought I knew.
I want to believe I have allies in these ruthless games, but the more truths I unravel, the more twisted and tangled the web becomes.
And the deeper I fall down the rabbit hole, the more determined I am to bring them down.
*RUTHLESS KINGS is book 2 in the Windsor Academy series and cannot be read as a standalone. It is a dark high school bully romance that may contain triggers for sensitive readers. Due to mature content, it is recommended for readers 17+ only.

This series is utterly addictive, I read Wicked Liars and Ruthless Kings in one day. I literally spent my entire day wrapped up in the Windsor Academy world, nothing else existed outside of this world.

Ruthless Kings starts where Wicked Liars left off and from there Jazz and Kingston's connection burns hotter and the emotional connection between them becomes deeper. The questions with little answers and the answers they seem to find bring up even more questions.

Spending the day wrapped up in this world led me to a bunch of nail biting, breath holding, heart racing page by page I was more immersed in this world than I was with reality.

I love the relationship that Kingston, Bentley and Reed have the unwavering loyalty and knowing that while they are going through a time that nothing in their world makes sense there's no question in any given situation that they will have each other's backs. They have always had Ainsley included in their group but Jazz has become just as important to the group and boy, does she need people in her corner.

I can't wait to read Fallen Heir not only to get all the answers and to see some justice served but also because I loved being inside this world with this insane storyline that keeps you guessing, the ultra-protective alpha men and the feisty women that won't bow down to anyone's demands.
FALLEN HEIRS Cover Reveal and Blurb coming soon
Buy now or Read for Free with Kindle Unlimited
WICKED LIARS
RUTHLESS KINGS
Preorder FALLEN HEIRS